Live to the Beat of the Music in Westerville
They say the only thing constant in life is change. One thing that doesn't change is the love of live music. No matter the generation, the time of year or the place, live music is something everyone enjoys. Westerville knows the importance of entertainment and providing locals and visitors with the best experience, which includes live music. You can find live music throughout the city at a variety of restaurants, venues, festivals, and markets. Check online event schedules to make plans or get out and explore and stumble upon the best music you'll hear in the city. All live music events in Westerville are free and open to the public.
Many Westerville restaurants, coffee shops, and bars feature live music frequently throughout the week for guests to enjoy.
The Two-One Restaurant, Bar & Patio, located inside the Renaissance Columbus Westerville-Polaris Hotel, offers live music every Friday and Saturday night with local favorites like Honey and Blue and others performing while you enjoy dinner or a craft cocktail. View their schedule here.
Giammarco's Italian Restaurant has live music on their patio or in the Grotto on select nights throughout the week. Find scheduled dates and entertainment on their website.
Harry Buffalo has one of the biggest patios in Westerville with its own performance stage featuring local favorites such as The Reganomics, North to Nashville, LTNL and more! View their event schedule on their Instagram and make your reservation in advance!
Java Central Coffee Roasters, in the heart of Uptown Westerville (and on the Cbus Coffee Trail), offers live music in their coffee shop. Tuesday evenings feature live acoustic jams, Friday nights are open mic night and Saturday evenings offer live professional performances spanning various genres including rock, folk, pop, blues, jazz, bluegrass and more! Every Tuesday, May-September, the coffee shop offers Lunchbox Concerts on the Java Central Brick Walk with a variety of performances while you sip coffee or grab lunch. The first-ever Bluegrass Festival featured five bands including local banjo icon, Gary Puckett in August 2023. Visit javacentral.coffee/live-music for more information.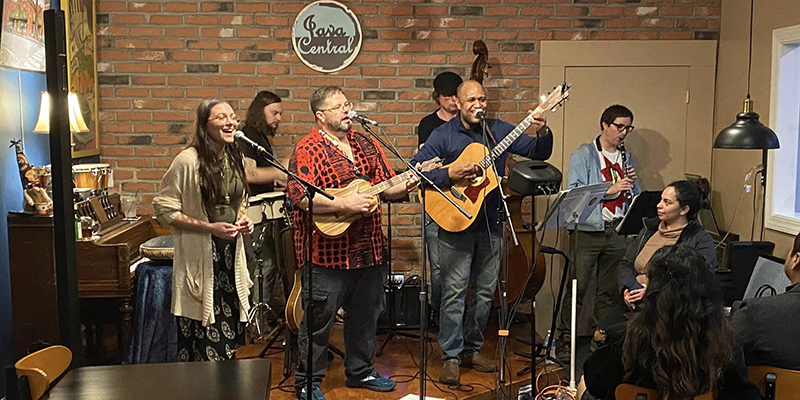 Looking for more live music in Westerville? Check out Good Vibes Winery and Asterisk Supper Club, both located in Uptown and offering live music on select Friday and Saturday evenings.
Westerville is the place to be in the summer months. There's something happening every weekend and live music can be found anywhere you venture in the city on any given weekend evening. Each summer Friday, Uptown Westerville is like nothing you've ever experienced before. Uptown Friday Nights, the first, second and third Friday of every month May-September, features live music throughout the streets of Uptown Westerville, and many merchants stay open late. Then, on the fourth Friday, the main thoroughfare in Westerville shuts down to traffic for the Fourth Friday Festival, which offers guests plenty of live music, entertainment, food trucks, pop-up vendors, restaurants, and retail shopping.  The festival runs from 6-9 p.m.
Get out and enjoy fresh air and live music on select Saturday nights in the City Hall courtyard and each Sunday night over the summer months at Alum Creek Park North Amphitheater for the Sounds of Summer Concert Series. Music genres and artists vary each week and range from country to rock n' roll, and music from the 60's through today. Grab a blanket, picnic basket and the family and come out to enjoy a beautiful evening in Westerville.
The Westerville Farmers Market, happening every Saturday morning May-September behind City Hall, provides entertainment while you shop amongst local farmers and vendors. Performances are typically one or two musicians playing acoustic jams and occasionally feature a local band for the duration of the market from 9 a.m.-12 p.m.
Aside from the recurring festivals and markets featuring exceptional live music, there are also a variety of events taking place each year offering the best live music in the city. The annual Westerville Music & Arts Festival is an exciting, fun-filled weekend event featuring 130+ artists, 30+ performances, 20 unique food vendors, a youth entertainment and art show, and a silent auction. In 2023, the event will take place July 8-9 at Heritage Park & Everal Barn. Uptown Untapped, August 12 from 6-10 p.m., is an annual craft brew festival featuring live music and entertainment.